Spring is in the air and with that, comes the unearthing of all that you buried within your shed last Fall!
As you prepare your backyard for summer festivities, set up your Kamado Joe grill and get fuel for the fire pit you recently bought from us, here are some neat D-I-Y ideas we found that could really add some character to your existing outdoor space, while helping reuse some old items you may find during the spring-clean out!!
Turn Old Tires Into Seating!
Have some old tires you don't plan on using? Wrap and secure rope around each tire and voila- you have four new outdoor seats!
Larger Tree Stumps Around Your Property?
If you're clearing your property and have access to larger stumps, add a decorative outdoor cushion to the top to create a seat!
Lawn- Pegged Drink Holders
Creative, easy and portable way have side- tables around your firepit!
Same Concept:
 Much less effort and tools required for this version!
Cool Ways to Repurpose an Old Chandelier
Have an old chandelier or see one at a thrift store? Replace the old light bulbs with solar lights or plant pots, then hang it from a branch! Spray paint the actual fixture to match your liking. Glow-in-the-Dark Paint Can Do Some Neat Things! Quick Centrepiece Idea
Cut a little hole in the centre of an upright log, large enough for a tea light! If you're weary of it knocking over, you can always use the Dollar Store LED ones! Great idea for a patio table centrepiece or as a larger standalone.

Have Those Standard Black Folding Chairs?
Add some pizzazz by spray painting them! Turn Empty Wine Bottles into Bird Feeders!
Repurpose old wine bottles by turning them into bird feeders!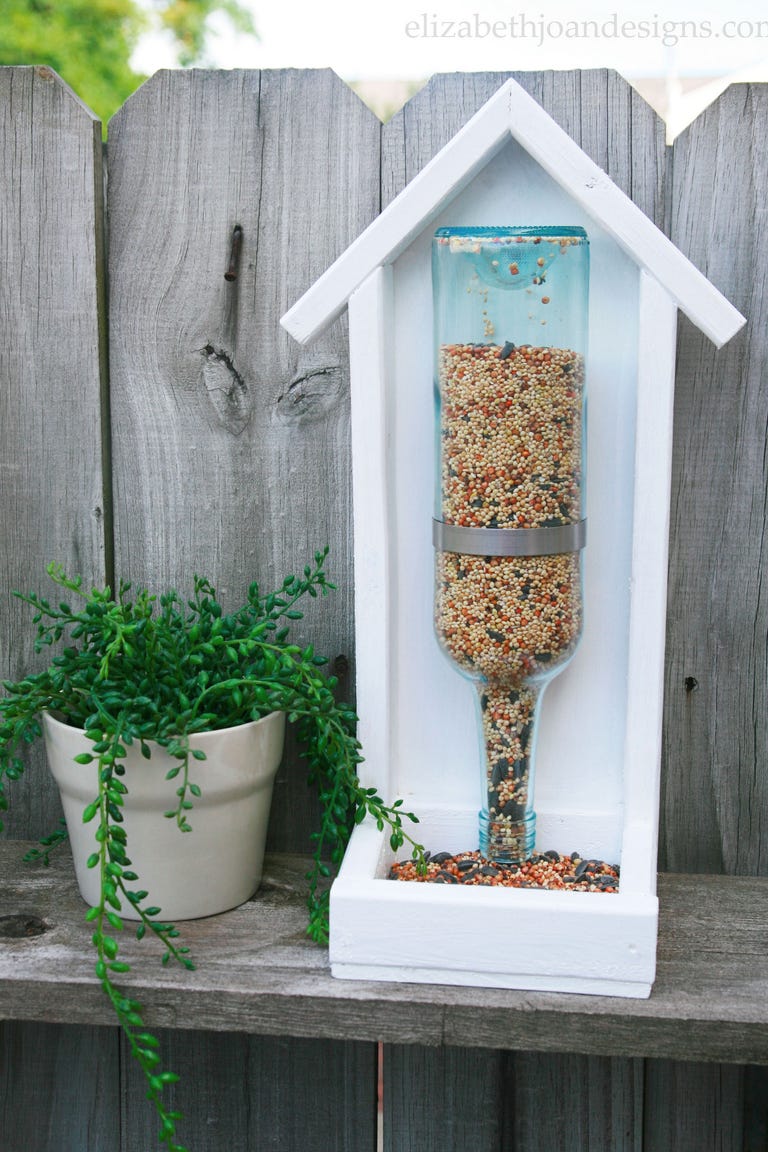 Turn Your Old Cooler/Fridge into an Outdoor Ice Bucket!

Do you have an old cooler or fridge? With a little TLC and some basic woodworking, you could revamp your old appliance and turn it into an ice box! There are countless Youtube tutorials to follow online
Put this next to your firepit and cut down on having to run back and forth, every time you need a drink refill!
Take it One Step Further with the Outdoor Coolers!
Handy with woodworking tools and want to take it a step further? Look at how this couple built their own patio table with built- in coolers!
https://www.remodelaholic.com/build-patio-table-ice-boxes/
We hope you find some of these ideas inspiring! Please leave a comment below, showing off some of your great DIY skills!